Cyber Security Month 2019: Protect It.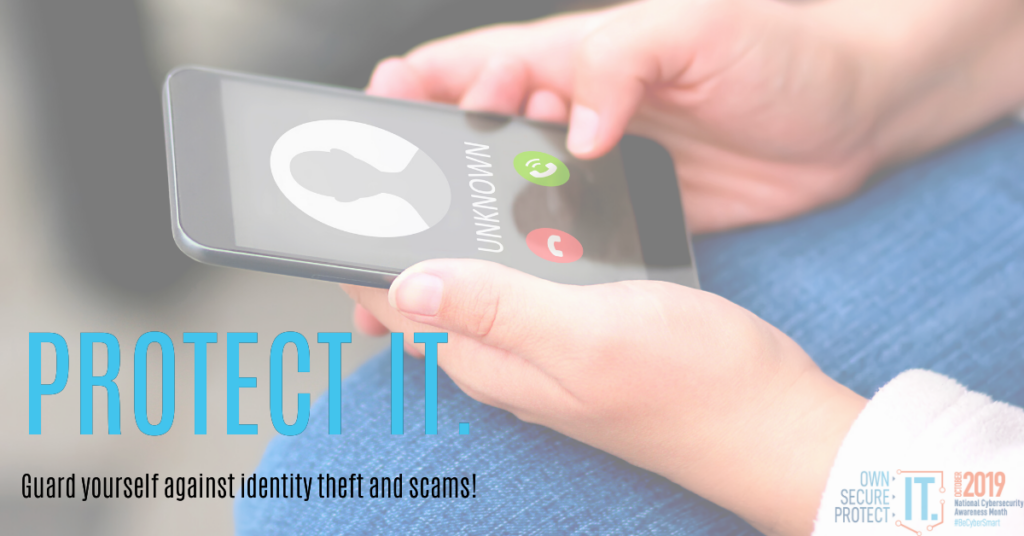 Modern technology has done so much to merge our identities with our online presence. While this makes our daily lives easier, it also makes it easier for cyber-criminals to steal your information and commit identity theft. As an example, in 2018 The Federal Trade Commission (FTC) received over 167,000 reports from individuals claiming misused information on a new or existing credit card account. And that's just credit card information- cyber-criminals can access much more information when left unchecked.
So what are some steps you can take "Protect It?" Here are 5 quick tips to keep yourself safe from online fraud:
Practice safe web surfing wherever you are by checking for the "green lock" or padlock icon in your browser bar—this signifies a secure connection.

When you find yourself out in the great "wild Wi-Fi West," avoid free Internet access with no encryption.

If you do use an unsecured public access point, practice good Internet hygiene by avoiding sensitive activities (e.g., banking) that require passwords or credit cards. Your personal hotspot is often a safer alternative to free Wi-Fi.

Don't reveal personally identifiable information such as your bank account number, SSN, or date of birth to unknown sources.

Type website URLs directly into the address bar instead of clicking on links or cutting and pasting from the email
What if you've already become a victim of cyber-crime? Keep record of all the evidence and report it to any of the following government organizations:
FTC.gov: The FTC's free, one-stop resource, www.IdentityTheft.gov can help you report and recover from identity theft. Report fraud to the FTC at ftc.gov/OnGuardOnline or www.ftc.gov/complaint
US-CERT.gov: Report computer or network vulnerabilities to US-CERT via the hotline: 1-888-282-0870 or www.us-cert.gov. Forward phishing emails or websites to US-CERT at phishing- [email protected].

IC3.gov: If you are a victim of online crime, file a complaint with the Internet Crime Complaint Center (IC3) at https://www.IC3.gov.

SSA.gov: If you believe someone is using your SSN, contact the Social Security Administration's fraud hotline at 1-800-269-0271.
For more cyber security tips and information past cyber security month, check out the National Cyber Security Alliance (https://staysafeonline.org/ncsam/). Stay alert, stay informed, and stay cyber smart!